Warsaw
The place where you can see the mermaid!
Warsaw is the capital of Poland. But apart from that fact why is Warsaw such a famous place?
We've got 3 main reasons.
Warsaw airport - Okęcie. This is the first place many visitors see in Poland. It is on the Żwirki and Wigury street. They were the famous Polish flayers. The airport was opened in 1934 th and it's named by Polish composer and the wonderful pianist of 19th century - Fryderyk Chopin. You can also see his monument in the front of First Terminal. You can go to the viewing terrace and look at aero planes which are coming and flight. It is a very beautiful view. Of course, you can take photos.
Royal Bathrooms - this place was formed by Stanisław August Poniatowski in 18th century. You can see there the monuments of famous Poles for example: Henryk Sienkiewicz, Stanisław August Poniatowski, Jan III Sobieski and Fryderyk Chopin. You can also see Palace on the Water from side to side. The White Little House, which was built in eighteen century and The Water Tower (1827) are here too. Also there is the Old Orangery (1786-1788). It was design by Dominik Merlini. At least you must hear about Amphitheater. It have two parts. There are many of peacocks. Their voices are very noisy. The place is ideal for walks and romantic meetings.
Modern Warsaw - in the hearth of modern Warsaw there are many of buildings. A lot of them are the new skyscrapers, which are very very high. For example of this buildings are: The Center of LIM 170m (1980-19890), Roundabout 1192m (2003-2006), Warsaw Trade Tower 208m (1997-1999). This buildings is widely more and many will be in Warsaw. You can go to the Golden Terraces (2002-2007). Jerde Partnership was the designer of this place. This building is 105 meters high. Maybe is not a lot but as for the shopping center it is big. Business Center of Warsaw will be in Marszałkowska street.
The Old Town is a place, where according to an old legend lived the Bazyliszek - a hoorid creature which turned into stone everybody who looked at it.
You can see there the Chapel of Miraculous Jesus. It is in Church Saint John the Baptist. On gate this church are sirens and eagles. Also there is a square, where one can see the narrowest block of flats in the Poland and bell of 17th century. On the square there is a monument of the Siren. You can take photos of it. Also u can see the Zygmunt's Tower and monument of Zygmunt III Waza too. His monument was untouched during the war. You can walk near Zygmunt's III Waza Column and see Barbakan. Also we can see house of Maria Skłodowska Curie on Freta street. You can stay by the monument of Insurgents. They moved through channels. In front of this there is the church on which is written: Temple of Indulgence Year Saint Paul. Not so far from this church there is a monument of Small Insurgent.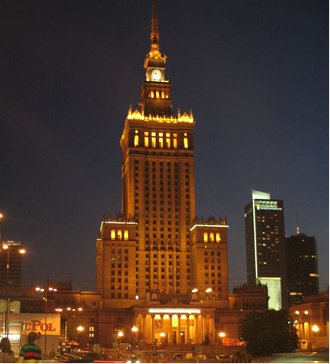 You can't afford to miss the Palace of Culture and Science. It is built in the socrealistic style. Its clock is the biggest clock in the Poland and this building is the highest in our homeland. It is placed in the center of Warsaw on the Parades Place. In the middle of the building there are cinemas, theaters, book shops, high schools and science institutions. There is board room for 3000 people (Congress Room), Museum of Technique, Museum of Evolution PAN and TeenPalace with a swimming pool. Inside you can go by elevator on viewing terrace and you can have time for watching panorama of the city from upstairs. Also you can take many photos. Of course there are a lot of attractions, but you have to have enough time to see all of it. In front of building there are monuments of Adam Mickiewicz and Mikołaj Kopernik.
We were in Warsaw so we want to recommended this place. You simply must go there! Don't forget taking camera!
Our photo from Warsaw: